Post by Rose on Mar 14, 2007 19:22:57 GMT -5
Captain Panaka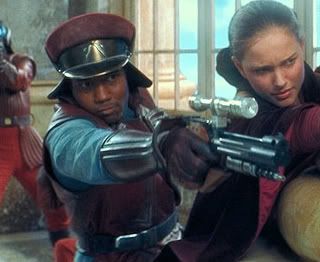 Basic Information
-
Homeworld:
Naboo
Species:
Human
Gender:
Male
Height:
1.83 meters
Weapon:
Security S-5 Blaster (with ascension gun)
Affiliation:
The Naboo
Movie Information -
Queen Amidala's loyal protector during the Trade Federation invasion crisis was Captain Panaka. Panaka was often referred to as "the quickest eyes on Naboo" for his attention to detail and selfless dedication to the safety of the Queen.
A powerfully built man, Panaka was a forceful leader, commanding a team of Royal Palace Guards and Security Troopers stationed throughout Theed. During the Trade Federation invasion, Panaka stayed close to the Queen, ensuring her protection from the Neimoidians' plans. His loyalty was such that he would openly question the strategy of Jedi Knights if he thought it would somehow endanger Amidala.
Panaka accompanied Queen Amidala during her escape from Naboo to Coruscant. When the Queen returned to Naboo to reclaim her throne, Panaka was by her side, offering cover fire during the infiltration of the Palace.
Ten years after the planet's liberation, the Naboo political structure had changed such that Panaka was no longer responsible for the protection of Amidala.
Expanded Universe
-
Born on Naboo, Panaka studied abroad. As a young man, Panaka joined a Republic Special Task Force to hone his combat skills and tactical mind through engagements with pirate forces in the Naboo system.
After his time with the Task Force, Panaka joined the Royal Naboo Security Force. He served under Captain Magneta, protector to then-King Veruna for 13 years. Veruna was forced to abdicate his throne when he became embroiled in offworld scandal. Veruna went into hiding, where he met a suspicious death about six months prior to the Battle of Naboo. For failing to protect Veruna, Magneta stepped down, and Panaka ascended to the rank of captain of the volunteer Security Forces on Naboo, commanding the Security Guard, the Palace Guard, and the Space Fighter Corps.
It was Panaka who devised the decoy scheme that protected the Queen and her handmaidens. In times of danger, Queen Amidala would adopt the role of Padmé, a simple handmaiden, while her handmaiden Sabé would pose as the Queen. This tactic was used to some effect during the Trade Federation conflict.